Conservatory maintainence
At P & K Home Improvements we are often asked about how to best maintain your conservatory. The issue of the best replacement conservatory roof often arises, so this time we have put together our answer to finding the best replacement conservatory roof for your home.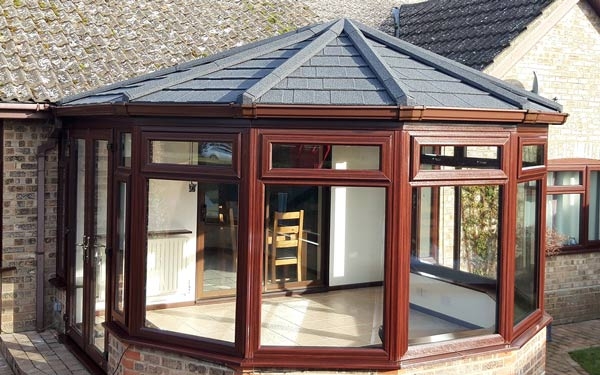 Key Issues
We often find that one of the key issues that our customers complain about when they first get in touch with us that their old conservatory is either boiling hot or freezing cold. Our solution to this problem is always the same. We begin by looking at the customer's conservatory roof and inevitably discover that it has been made from a non-insulated or polycarbonate structure, which is why the conservatory swings between being too hot in the summer and too cold in the winter making the room an unenjoyable space to occupy and therefore a wasted space.
Guardian Roofs are a trademark registered company because their products have been designed to provide high performance thermal solutions. They also have Local Authority Building control approval meaning that you can have complete peace of mind knowing that your conservatory roof is safe and will keep your family warm, comfortable and secure for decades.
Guardian roof benefits
The benefits of a Guardian roof speak for themselves, however they are also quick to install, can be designed around you and your needs, have 100% thermal reliability and mean that you can use your conservatory all year round.
As we are a Guardian Approved Installer we are able to quickly solve this problem by recommending that a new, fully insulated and stylish tiled roof is fitted replacing your former, ineffective conservatory roof. We will replace your old roof with a Guardian roof making your conservatory a useful space for a children's play area, home office, dining area or reading room once again.
What's more, in addition to gaining all that extra space back, you will also find that your energy bills will start to decrease due to the high-performance insulation materials which are used in Guardian roofs. The improved thermal performance of your conservatory means that you aren't just able to enjoy your conservatory as an additional elegant space but that you can enjoy your home knowing that you are doing your bit to help protect the planet's precious resources.
Team Guardian
When it comes to upgrading your conservatory roof, we are approved installers for Guardian Solid Roof Systems. Guardian are the industry leading insulated conservatory roof supplier, with a long track record of success in the industry. You've probably realised that although a conservatory looks great, achieving a consistent temperature can sometimes be difficult. That's why we always install a Guardian Warm Roof on any new conservatory, and we recommend them for roof upgrades too.
We are all increasingly aware of the need to protect the planet at all costs, especially following months of a global health crisis in the form of coronavirus as well as the rise in the occurrence of wildfires in places like Australia and America and the growing number of global warming-related storms, so now more than ever is the time to take steps towards protecting the planet, on an individual basis as well as socially. As Guardian roofs protect your home as well as the planet, this is what makes it the best replacement conservatory roof available.
Why not contact P&K today on 01603 563 278 for a chat about conservatory roof replacements?